How to Get Started Building Your Ideal Pool Patio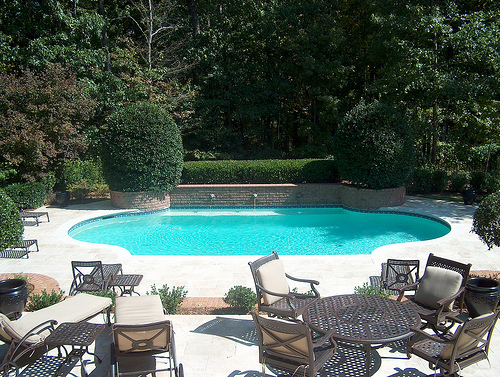 Let's start with something obvious – pools are great places to relax or throw parties. With the right weather, some good food, and a well-designed outdoor area, the enjoyment that comes along with being by (or in!) the pool can be second to none.
But what if you're a new pool owner or someone looking to redo your pool and patio? If you're not already working with a pool company specializing in renovations or a landscaping artist, knowing what to do and where to begin can be very difficult.
So, where should you start? Follow our tips below to start planning your dream pool patio.
Setting your pool renovation budget
Like any other home improvement project, you'll need to set a budget for what you're willing to spend. Before you get to crunching the numbers, we recommend following this outline to ensure you'll be happy with the final project:
Dream up your ideal layout for you and your family. Yeah, figuring out how much you can actually spend on your pool area is an important part of the process, but you should feel free to let your imagination run wild at the beginning. If you're having trouble coming up with ideas, take a look through this Pinterest board full of great ideas for pool and patio landscaping. Ask yourself, what goals are you trying to accomplish with your pool area? Would you like to host more parties, or will you mainly use your pool and patio for your personal entertainment and relaxation? Once you decide, you'll have a much clearer idea of what items you'll need to purchase and how much outside assistance – if any – you'll require.
Decide what matters most, and prioritize your budget accordingly. Maybe you'd like to make a more kid-friendly pool, but with a comfortable spot for adults to relax. In this case, you'll want to split expenses between nice patio furniture and pool games for the kids. On the other hand, maybe you'd like a technologically-advanced, multimedia pool center. In this case, plan to spend more on items like speakers and waterproof televisions.
Do some research. Costs will vary greatly based off what you'd like to do with your pool area. After you've decided on the general direction you'd like to take with your design, you'll have to figure out how financially viable it is for you. Since you've already done the hard part of prioritizing what amenities are most important to you, it should be fairly easy to decide where to allocate your funds.
Now that we've gone over how to think through your budgeting process, here are two different pool patio examples to get you thinking about what set up is right for you.
Functional Family Fun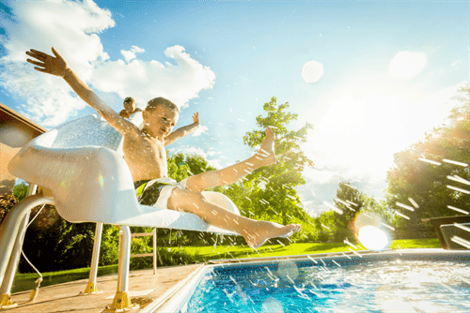 For pool owners with children, this is the best way to go. After all, few things excite kids more than a pool, and by investing in entertainment for them, you can maximize the enjoyment they get out of your pool while also enjoying it yourself.
Along with purchasing simple pool toys like floats and pool noodles, more elaborate forms of entertainment are worth considering. What kid wouldn't love a pool basketball hoop, a water slide or a diving board?
Having a kid-friendly patio doesn't have to prevent you from making this area a comfortable and relaxing environment for you and your adult guests. Purchase furniture that is both comfortable and resilient to weather, including a sturdy and weather-proof outdoor table so that you can enjoy family meals between swimming sessions.
For landscaping, you'll probably want to keep things simple, ditching plants that can be easily harmed by excited children and creating a more open area where your kids can play outside of the pool.
A pool patio like this will make your home a popular spot for birthday parties and summer gatherings, providing plenty of fun for your family. This is also likely a less expensive set up, with minimal need for outside contracting help­.
Top of the Line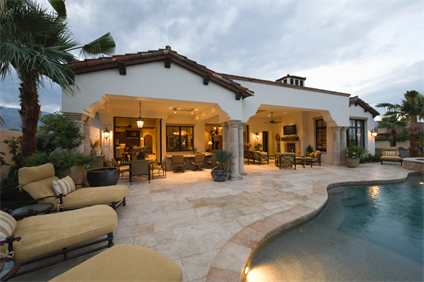 If you have adult children (or don't have children at all), this option might be the most appealing to you. Take all of the adult themed options from above, then go a step further and let your imagination run wild.
This set up is all about relaxation and making your pool a spot friends will talk about. You don't have to worry about entertainment for children – instead, you can focus on making your pool fit your vision and goals exclusively.
You can invest in technology like wireless Bluetooth speakers and waterproof televisions that will make your pool patio an entertainment hot spot, or choose to focus more on design and creating a relaxing sanctuary. Once again, it all comes down to what your goals are.
Install lighting that makes your pool area stand out. Have the floor of your pool decorated so that it enhances the ambiance of your pool environment and ties into other design elements of your patio like stone etchings, patterns, or landscape art. Consider amenities like an outdoor fan, grill and bar. You can even complete these areas with a mini fridge, working sink, and high-end finishes.
This should be a spot you can enjoy yourself and want to escape to. You'll need to use a contractor to design some of the more sophisticated aspects of the pool area, but it will be more than worth it if it reaches your desired outcome.
Enjoy Yourself
Whichever path you go down in making your ideal pool patio, remember to enjoy yourself and get creative. Browse along sites like the aforementioned Pinterest board and take note of what stands out to you. Whether your goal is to host adult gatherings or simply keep your kids happy and entertained, always be mindful of what you really like. That'll ensure that you get the most out of your pool.