5 Questions to Ask When Buying a House with an Inground Pool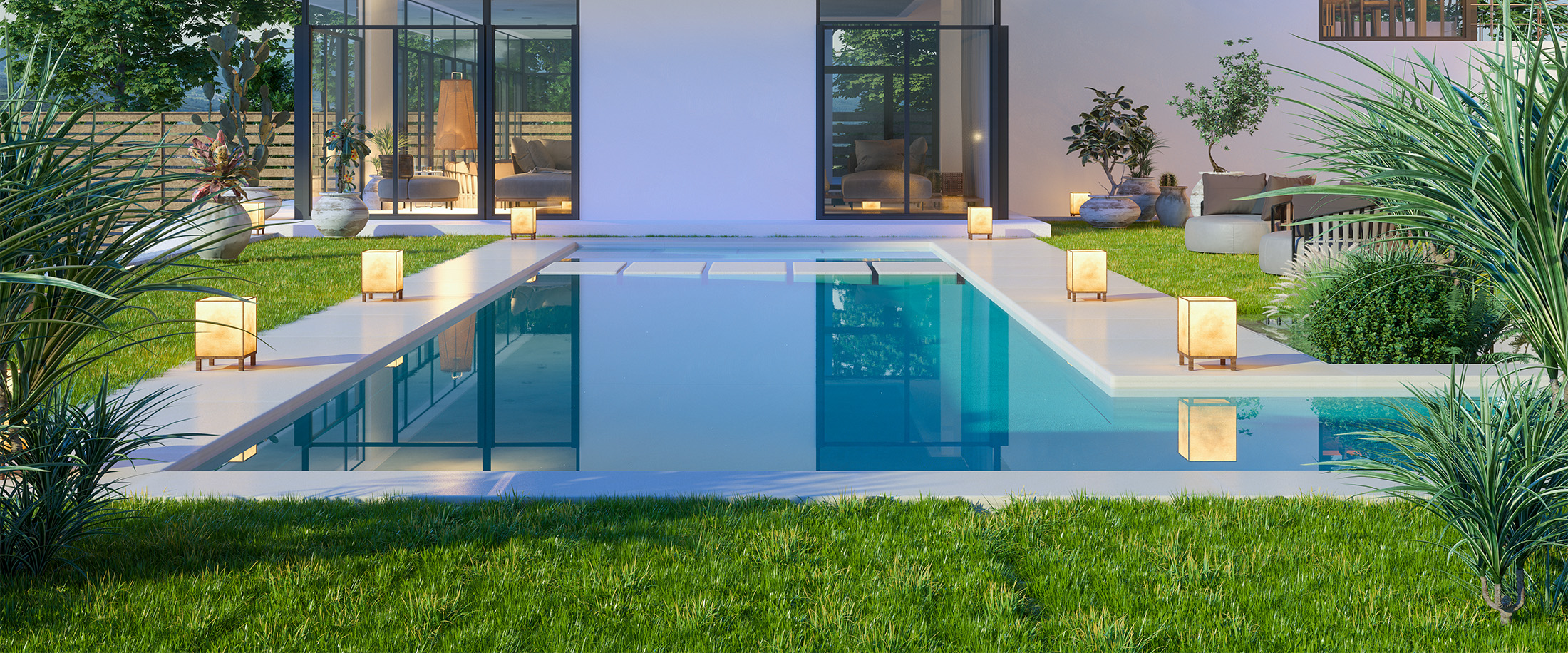 When you're in the market for a new home, chances are you'll come across a few properties that come with an inground pool.
Now, if you've been a pool owner in the past, you'll already have a good idea of what it takes to maintain one. But whether you're a pool pro or a total novice, you may be overlooking important details about your future pool's health, maintenance and safety.
Before you jump in headfirst, here's what you need to be asking when considering a home with an inground pool:
1. How old is the pool?
A no-brainer, right? But this question goes beyond getting a simple numerical answer.
For example, say the current residents reply that they don't know when it was built. Already, that's a red flag. If your future pool was built over ten years ago (or at an unknown time) with no record of being replastered, refurbished or receiving other maintenance, that's a bad sign.
Plastered pools typically need to be replaced once every ten years or so. For vinyl liners, we recommend a replacement every 5-10 years. If the current residents can't tell you the last time your future pool was inspected or refurbished, there's a good chance that pool is going to cost you a pretty penny in maintenance and replacements.
The same question should go for the pool's equipment, such as the heater, filter and other crucial features. Having those go out unexpectedly can be frustrating and expensive.
2. Can you estimate what you pay monthly for maintenance?
Likely, the current residents won't be able to give a hard and fast price for what they pay for pool maintenance every month. Those costs can fluctuate based on additional fees and purchases, like extra chemicals, new pool equipment, pool openings and closings and more.
But they should be able to give you a ballpark of what they're spending every month. This will be helpful when looking at your budget when deciding if you can afford the additional expenses of an inground pool.
When given this estimate, it's also best to do your own research for comparison. You'd hate to be left with astronomical pool bills you can't afford if, for some reason, their estimate was wrong (or worse, you were lowballed).
Another factor to consider is the additional insurance costs. Because they can present several hazards, your homeowner's insurance will likely be higher as pool owners.
Sometimes, you'll be able to reduce this rate by adhering to important safety standards, like having a fence and a locked gate around your pool. But again, these could be additional costs if they're not already present in your future backyard.
Speaking of safety measures…
3. What safety precautions does the pool have in place?
While pools can be lots of fun, they can also be dangerous if you're not taking the proper precautions. Investing in a pool that isn't compliant with mandatory safety standards or showing major signs of disrepair can put you and your family at risk.
The CDC reports that 4,000 people drown every year in the U.S. – both adults and children. Plus, a pool without safety features can even pose a danger to your pets and local neighborhood creatures.
Most likely, there will be accessories that you'll need to invest in as the new owners, such as life hooks, pool covers, buoys, etc. But it's certainly a plus if your future pool has features like anti-entrapment covers, safety vacuum release systems, motion detectors or installed fences.
4. Have there been past events with algae, mold or other substances?
This is a vital question, and hopefully, the current owners will answer it truthfully.
If pools aren't consistently balanced or have too much exposure to debris, they can become prone to algae blooms or mold outbreaks. Algae blooms and mold can be controlled with regular, vigilant maintenance, but it's still important to ask and see what could be in store.
5. Did this pool add or detract from the house's current value (and will it in the future)?
This could be more of a question for your realtor than the current residents of your future home. Have a conversation about how pools affect the value of a house in your new area. Are you in a warmer climate, making it more of a selling point? Is there already an abundance of homes on the market with pools? Factors like this could impact both current and future decisions about purchasing a house with (or without!) an inground pool.
And lastly, here's a bonus question we believe you should ask:
6. Do you have a pool cleaning service you can trust?
Many times, inground pool owners can be overwhelmed by regular maintenance – especially if they're first-time owners. Be sure to ask if the current residents use a reliable, high-quality pool cleaning service that can keep your pool pristine. (Also, consider the consequences if there isn't one in the area. You could be left scrambling for professionals when you really need help.)
If you're in the Chicagoland area and looking for that reliable pool service to keep your pool in shape, look no further. Contact the AAA Pool Service team today to learn more about our offerings.