How to Throw the Pool Party Bash of the Summer
The weather is starting to warm up and we're finally seeing more sun – it's almost summer! Now is the perfect time to start planning a pool opening party for your friends and family.
You should consider a couple of things if you want your party to be the bash of the summer. Whether you're a first-time pool owner or looking to level up your yearly get-together, here are some tips on throwing a memorable pool party.
Pick a Theme
What's step one of throwing a great pool party? Pick a theme!
Themes are a great way to help tie in decorations, food choices and activities. Plus, they're an easy way to get your guests involved, whether they're bringing themed treats or dressing in (pool-friendly) costumes to play along.
Here are a few ideas for pool party themes:
Shark Week: Throw a JAWS-one party by decorating your pool with inflatable sharks and adding themed food options to your table, like a watermelon shark or shark bite cupcakes.
Island Getaway: Transform your backyard into the ultimate vacation with fruity drinks, colorful pool fish, and inflatable palm trees. Why not get creative with tropical-themed foods, like pineapple-grilled pork chops?
Under the Sea: Get creative with your table settings to create a nautical theme for your ocean-obsessed friends. You can even decorate your pool area with these paper jellyfish.

A Pirate's Life: Decorate your backyard with treasure, enjoy fun games for making your own name and grab some gummy shark "catch of the day."

Decades Party: Feeling like a 50's night? How about a 1920's Great Gatsby party? Whichever decade you choose, these themes are great for kids and adults alike.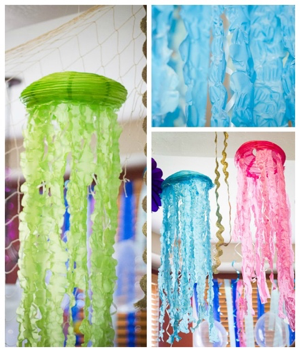 Get Crafty
Now that you've picked a theme, it's time to get crafty with your food and decorations. Decorating your yard lets you get creative and blow guests away with your exciting features.
There are lots of options to deck out your pool deck without breaking the bank, such as:
Pool Toys: Remind your guests that the pool is where the part,,y is with inflatable rafts and tubes, floating coolers for drinks and beach balls. Garland can also be made from cut-up pool noodles or beach balls strung together.
Balloons: Balloons can be used to create banners, garlands, balloon arches and a street marker to let guests know where the party is. You can also use balloons in more crafty ways, like using them to make balloon popsicles.
Tissue Paper: Create tissue paper decorations to make bright yellow pineapple or snow cones – you can even use it to make your own piñata.
Photo Booth: Create a way to remember your fun memories with a photo booth. Adding backgrounds and props that match can easily tie in your theme.
Themed Sweets: Snow cones? A flamingo cake? "Pirate bones" made of pretzels, marshmallows and melted white chocolate? Don't be afraid to get creative!
Pool Punch: Why not create a signature cocktail for your party? Give your cocktail a fun name, like Pool Water, Seven Seas Punch or Mermaid Lemonade.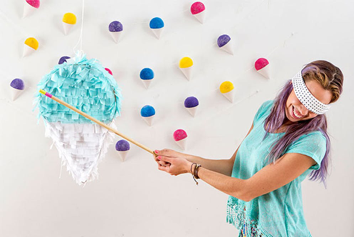 As you're decorating your backyard and preparing for your guests, make sure to think ahead. Grab a few extra pairs of flip-flops, some extra towels and stock up on sunscreen in case your guests forget any essentials.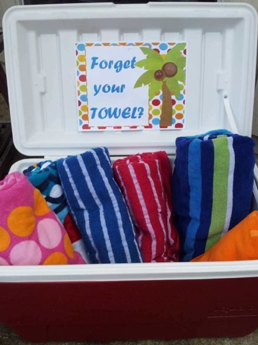 Fun and Games
For a successful pool party, it's important to have games and activities planned both in and outside that can be tweaked to follow your theme and involve your entire party at once or be left for people to participate in as they will. Overall, it's just important to think of all of your guests and to make sure you have some other options planned in case some people are a little water-shy or a roving storm sends you inside.
Here are a few examples of pool party activities that can act as either quick games or your main event:
Squirt Gun Station: Create a designated place to fill up your water toys for squirt gun fights.
DIY Jenga: For those guests that might not be as water-obsessed, you should offer some dry activities. For example, you can easily create your own oversized Jenga for a great group activity.
Obstacle Course: Here's a great way to get the kids out of the pool. Create an intricate obstacle course for your guests using household objects, like this one using hula hoops.
Scavenger Hunt: This may take a little more time to set up, but it's certainly worth it. A scavenger hunt is a great way to get everyone involved – especially if your party has a pirate theme.
Beach Ball Bowling: A simple take on an old classic. This game only needs a few pool noodles, a yoga mat, a beach ball and something to knock over (for example, empty soda bottles.)
Water Balloon Piñatas: If you're not crazy about picking up candy on your lawn from a traditional piñata, a water balloon piñata could work much better.
Costume Contest: Host a costume contest to help get your guests excited about your theme. You can have one overall winner or create individual awards for each attendee, so no one feels left out.
Pool Games: Of course, you can't forget about pool games! They may be looking for games other than Marco Polo and Sharks and Minnows. Check out some of these pool games, or create your own.
"Dive-In" Movie: Looking for a great way to relax in your pool? Grab a projector and speakers, and turn your pool into your own "dive-in" movie theater.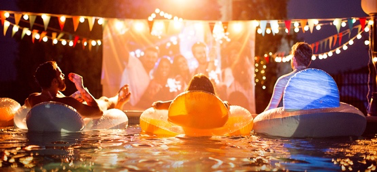 Have Fun!
Once the guests arrive, remember the most important part of the party – having fun! Contact us today for a professionally opened pool so you're ready for a summer blast.